Internet and network of the University of Bern
Computer workplaces

The IT Services of the University of Bern maintain and support pool rooms with computer workstations for students at various locations, which are available to students for general work during their studies as part of teaching and research. Learn more...
Wireless network (WiFi)

The wireless network of the University of Bern offers various access points. Primarily, publicly accessible rooms such as lecture halls, seminar rooms, cafeterias, social hubs, etc. are provided with WLAN. Use of the WLAN network is free of charge for students and employees as well as guests of the university. Learn more...
Access to internal resources via VPN

A VPN connection (virtual private network) enables an encrypted, secure and authenticated connection from remote locations (e.g. from home) to the university network. Learn more...
Video communication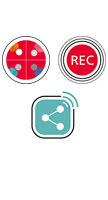 Get an overview of what multimedia electronic devices are available to you. Whether it's a web conference in a lecture hall or meeting room, recording lectures, or wirelessly presenting your slides or ideas to your audience. Learn more ...