Computer workplaces

The IT Services Office at the University of Bern operates a number of computer pool rooms at various locations with workstations for students, who may use the facilities for general work during their studies and research activities. Learn more...
WiFi

The University of Bern's wireless network offers a range of access points. These are mainly public areas such as lecture and seminar rooms, cafeterias, social hubs, etc. Students, staff and guests at the university can use the WiFi network for free.
Learn more...
Access to internal resources via VPN

A VPN (virtual private network) connection provides encrypted, secure and authenticated access to the university network from remote locations (e.g. from your home). Learn more...
Video communication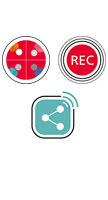 Lecturers, employees and students at the University of Bern may use mobile video communication by installing the relevant software on their personal devices. Several rooms are equipped with video technology for conferences or lectures. These rooms must be reserved in advance.