Computer workplaces
The IT Services of the University of Bern maintain and support pool rooms with computer workstations for students at various locations, which are available to students for general work during their studies as part of teaching and research.
The pool rooms are freely accessible and may not be reserved for classes.
Staff at the University of Bern may use our classrooms for their teaching sessions.
External visitors who are not registered at the university are not permitted to use these workstations.
Layout plan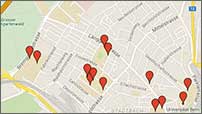 The map below gives an overview of all Mac and PC pool rooms on the University of Bern campus. Click on the corresponding marker on the Google map to view details about a specific pool room.
More information about the individual pool rooms
You can find technical support addresses, area plans and further information about each pool room below.

Software installed on PC
| | |
| --- | --- |
| operating system | Microsoft Windows 7 |
| virus protection | Symantec Endpoint Protection |
| Office system | Microsoft Office Pro Plus 2010 |
| PDF-Tool | Adobe Acrobat Pro |
| Media Player | VLC |
| Internet Browser | Internet Explorer 11 |
| | Firefox |
| others | 7zip |
| | Java |
| | Adobe Flashplayer (ActiveX und Plugin) |
| | SSH SecureShell |
| | Adobe Digital Editions |
Software installed on Mac
| | |
| --- | --- |
| operating system | Mac OS X 10.6.8 |
| Office system | Microsoft Office 2008 |
| | Libre Office |
| Text editors | LaTeX |
| | TextWrangler |
| Statistics software | SPSS 20.0 |
| PDF-Tool | Acrobat Writer |
| Media Player | Flip4Mac |
| Internet Browser | Firefox |