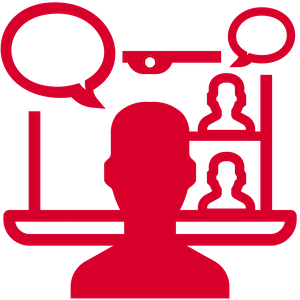 This topic is about bidirectional, synchronous transmission of video and/or sound. Bidirectional means that all participants can interact and react to each other simultaneously from different locations. Synchronous means that this happens at the same time.
There are numerous terms for this form of interaction and the forms are even not clearly defined. The settings range from simple, direct communication (face-to-face) to highly complex virtual scenarios (connecting several real and virtual rooms with hundreds of participants). What one understands by "video meeting" can be an "online presentation" for someone else or is maybe called a "webinar". You can find more information about the forms here
Videokollaboration
Each of these scenarios can be realized with more or less complex technical settings. There are different applications available at the University of Bern. Depending on your intended settings and priorities, one of these solutions is more convenient than others.
Not, what you are looking for?
If you are interested in recording podcasts, creating videos for teaching or making a pre-recorded lecture or conference contribution, you will find help on this page: Video in higher education