Hallerstrasse 12, Collection of Antiques

Plaster casts of antique statues have been very widespread and popular since the Renaissance but particularly in the nineteenth century. Once the proud inventory of the academy, then of the Museum of Fine Arts, the extensive and well preserved Bernese collection was spurned and mothballed in the early twentieth century. Made accessible to the public again in the 1970s by Professor Jucker in Nydeggstalden, it arrived at its present abode in the former storage rooms of the publishing house Kümmerli & Frey in 1996. As a particularly successful conversion of an industrial building, the new collection of antiques joined the Unitobler in 1997 as one of the sites for which the city of Bern was awarded the Wakker Prize of the Swiss Heritage Society. As a display store, collection of studies and the university's own district museum, it is among those places in Bern in which a visit full of surprises can be guaranteed. Enticed by the display window of a 1970s house, guests disappear underground. Not quite in the same way as the architects who once excavated it but nevertheless into the lower basement of a former factory.
A sheet asphalt floor, neon lighting, brightly painted concrete, partition walls made of lime sandstone exposed masonry and colored waste pipes that supply a suitable acoustic background – the industrial piece goods just don't seem to fit in with the sublime intellectual thoughts initially embodied by the replicas of antique works of art on display and a collection of originals in a separate cabinet. However, the 'pitiful' presentation not only makes sense from a cost perspective. The decontextualization to which Kilian Bühlmann and Bernard Schlup have subjected the second-hand works of art addresses the serial production conditions of the objects, their changed status and the materiality of the in some ways illusionistically painted and patinated plaster casts from an artistic perspective.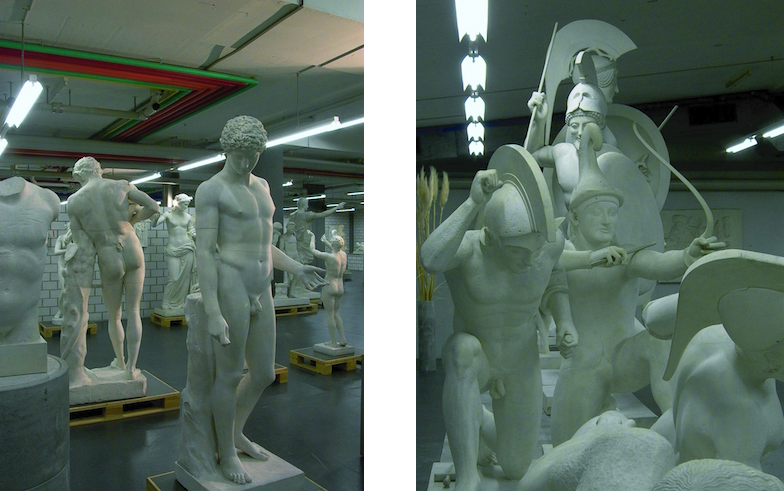 Surprising parallels become evident in the charmingly composed arrangement of the figures that would be unthinkable on the basis of the originals stored in museums all across Europe. Furthermore, the storage of the larger objects on palettes facilitates an easy reshuffling and new comparisons where necessary. As well as scientific analyses, the objects can also be used in the arrangement similar to an art room by which generations acquired the chiaroscuro technique in the tradition of the Beaux Arts. There is a sufficient number of suitable stools! The plaster casts produced since the early nineteenth century and gradually added to the collection illustrate some of the works of arts in a better condition than many originals.
Literature:
The catalog of objects can be found in: Adrian Stähli, "Die Berner Abguss-Sammlung" (with a supplement by Sandor Kuthy), in: Hefte des Archäologischen Seminars der Universität Bern (HASB), first supplement, 1985