CAS in Medication Safety
Faculty of Medicine, Inselspital – University Hospital of Bern in close collaboration with the Institute of Primary Health Care (BIHAM) & Institute of Social and Preventive Medicine (ISPM), University of Bern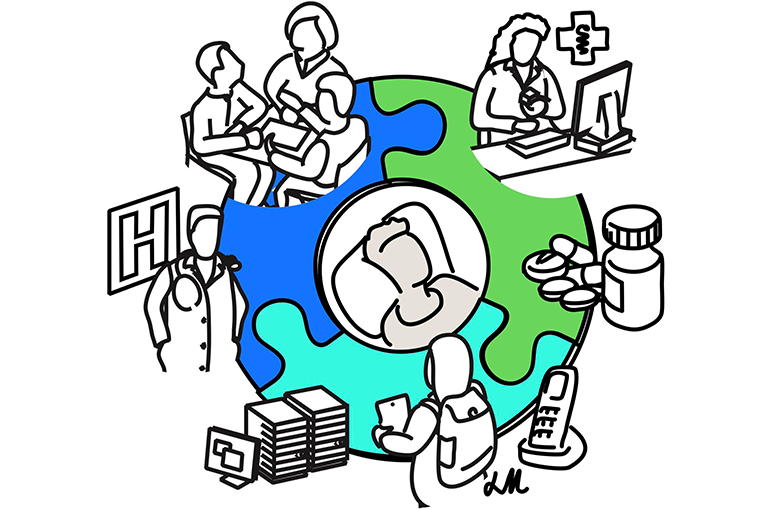 Medication errors are the cause of approximately half of all drug-related complications and many of them are avoidable, therefore being recognized as one of the most important areas of intervention by the Swiss health authorities.
Addressing the urgent necessity of interprofessional collaboration, the new CAS course in Medication Safety is designed to provide participants from different healthcare professions with the relevant knowledge about risks and opportunities of medication processes in both the hospital and primary care setting.
As medication safety leaders and advocates, successful participants will be able to proactively initiate, lead and monitor medication-related activities in their institution.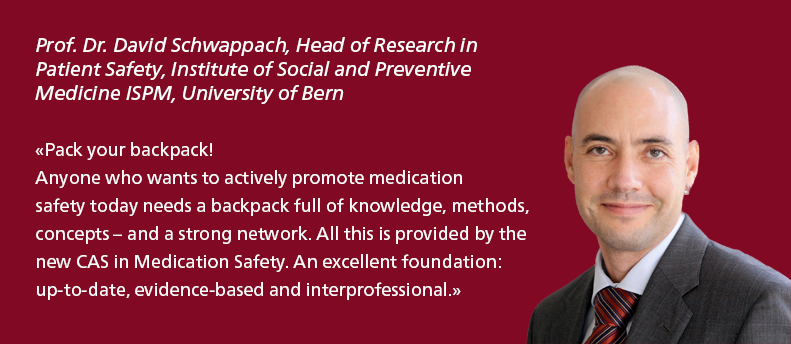 Summary

| | |
| --- | --- |
| Degree | Certificate of Advanced Studies in Medication Safety University of Bern (CAS MS Unibe) |
| Start | 10/2023 |
| Length | October 2023 – July 2025 |
| Scope | 10 ECTS |
| Cycle | Every two years, eventually yearly |
| Flexible entry possible | No |
| Single module visitable | Yes |
| Place | Bern and distance learning |
| Language | English |
| Admission | University degree at Master's level in pharmacy, medicine or nursing science or a University of Applied Sciences degree at Master's level in nursing as well as professional experience (admission "sur dossier" upon request) |
| Registration until | 2023/08/31 |
| Cost | CHF 8'950 |
| Special Offer | Reduction of course fees for GSASA members: CHF 1000, for the first ten registrations of non-GSASA members: CHF 500 (Sponsoring partner: GSASA Swiss Association of Public Health Administration and Hospital Pharmacists) |
| Organising institutions | Faculty of Medicine, Inselspital – University Hospital of Bern in close collaboration with the Institute of Primary Health Care (BIHAM) & Institute of Social and Preventive Medicine (ISPM), University of Bern |
| Partner | Geneva University Hospitals; Ente Ospedaliero Cantonale Lugano; Careum Hochschule Gesundheit Zürich; Kantonsspital Luzern; Solothurner Spitäler AG; Universität Basel / Universitätsspital Basel; Spitalzentrum Biel; Fédération des hôpitaux vaudois |
| | |
Registration
Share