Murtenstrasse 31
The new buildings of the Institute of Pathology completed in 1992 replaced a predecessor construction built in 1885 as part of the initial construction phase on the Insel hospital site and demolished in 1999 for the INO.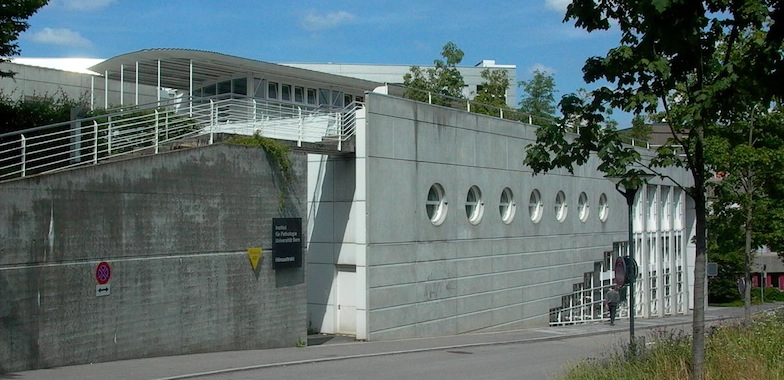 They were realized by architects Itten + Brechbühl, i.e. the later successors to the firm of architects once founded by Otto Rudolf Salvisberg who over the years had provided the university among other things with the new institute buildings in 1931 and the School of Dental Medicine in 1954. The new Institute of Pathology comprises a laboratory building on Murtenstrasse and the lecture hall wing to which particular attention is paid here. The building can be seen as a lighthearted postmodern interpretation of the ship theme that was one of the most common motifs in the Classic Modern Era (i.e. the inter-war period). The lecture hall wing accordingly offers an impressive response to the challenging topography and congested situation on the island site while at the same time also conveying an appropriate image of the journey on which the students embark during their lectures.

The centerpiece of the building is without doubt the historic autopsy lecture theater that was transferred here from the old institute building. The original wooden benches that are in many ways reminiscent of the auditorium in the old anatomy lecture theater were upgraded, probably in the 1950s, with around 70 Carl Zeiss Jena Deltrintem 8x30 binoculars. Together with the framework architecture made of bright materials comprising steel, glass, concrete, glass brick etc., an architectural attraction has arisen that vividly portrays the display of autopsied exhibits and the cold penetration of the scientific gaze at the 'case' that has become the focus of both the auditorium and the binoculars. The building serves to prove that the strategy of an intelligent further development of the status quo can sometimes be a better alternative to a style focusing purely on the old or new.