Transferable Skills Program for (Post)Docs
Transferable Skills - Key Qualifications for your academic and non-academic Career
individual feedback from experts
intensive learning in small groups
multidisciplinary networking
Transferable skills are competencies acquired in one context that can be applied to other contexts, jobs, positions, functions or fields of work. A case in point are good project management skills, required in both research and various other fields (construction projects, development projects, advertising or election campaigns).
(Post)Doc Program Transferable Skills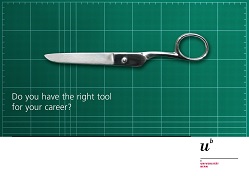 Program
The course program "Transferable Skills" is a project of the Vice-Rectorate Development within the scope of the sub-strategy of the "targeted promotion of the academics of the future" of the university's "Strategy 2021".
As well as earning an academic qualification, i.e. the thesis, the goal of a PhD education at the University of Bern is to acquire transferable skills so as to prepare PhD candidates for a demanding position within or outside academia.
A further goal is to help postdocs advance in their academic career. Thus, the courses on offer also give postdocs the chance to further develop relevant skills and enhance their professional profile.
Certification of such skills is seen as a competitive advantage in the labour market (see literature below in the section "More on this topic"), which is why certificates of attendance are issued (for one day courses or longer) to document these achievements.
The course program "Transferable Skills" is free of charge for postdocs and doctoral candidates of the University of Bern. Whereas ECTS recommendations are made, the decision as to whether or not academic achievements shall be recognized or considered as a part of a candidate's doctoral studies lies with the faculties and graduate schools. Please note the Terms & Conditions. As far as is useful and possible a product is developed in each workshop, with individual feedback provided by the lecturers.
In addition, several other bodies of the University of Bern offer various courses dedicated to transferable skills and other academic offers for doctoral candidates and/or postdocs.
Other workshops or academic offers at the University of Bern