Engehalde University (Old Animal Clinic)
Engehaldenstrasse 4/8, Neubrückstrasse 10, Schützenmattstrasse 14
Anyone unaware of the prehistory of today's Institute of Computer Science and Applied Mathematics and the Department of Business Management would hardly be likely to expect a former animal clinic at the ensemble at Engehalde.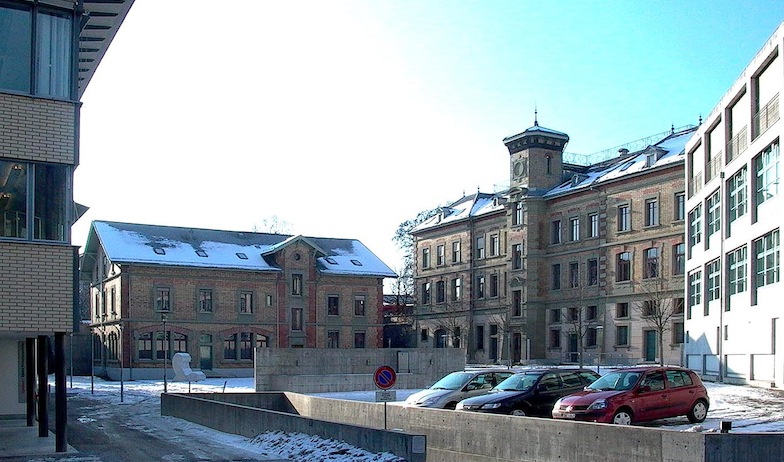 This was transformed during a complete overhaul between 1992 and 1996 into an unobtrusive modern architectural ensemble that consists in equal parts of carefully restored monuments and precisely designed new constructions.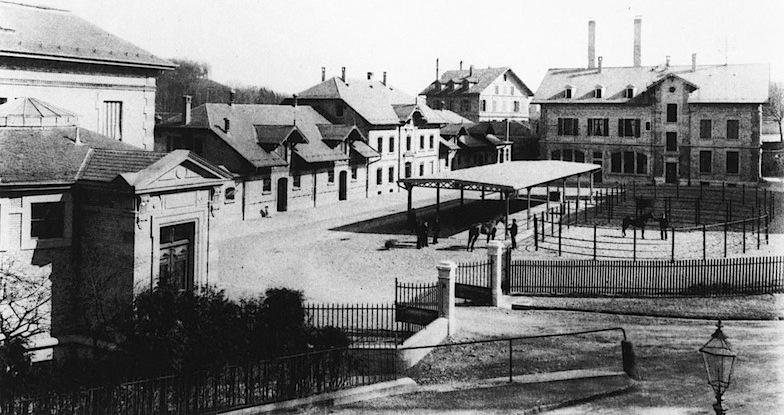 Back in the early nineteenth century, what was then the School of Veterinary Medicine (it only became part of the university in 1900) had already occupied and gradually developed the site which lay outside the city walls. The older buildings existing today already represent the second generation of buildings. Otto Lutstorf, founder of one of Bern's most productive architectural practices, erected them in 1891-92 as his first larger ensemble. (Forty years later, the Lutstorf & Mathys practice that he founded built the training school for the university.) The individual buildings comprise the main building (Neubrückstr. 10) with its distinctive stairwell tower, the former cantonal horse shoeing institute (Schützenmattstr. 14) and the animal clinic itself (Engehaldestr. 4). The connections with the riding school erected in 1896 and the slaughterhouse that existed from 1873 to 1916 further out on the Engehalde are particularly worthy of mention. The animal clinic moved to the site at Bremgartenwald in 1966.

The conversion and restoration of the abandoned site has often been described by architects Sylvia and Kurt Schenk as a city repair project, and indeed the project not only rejuvenated the site but also served to enhance an entire neighborhood that for decades had been suffering from the consequences of traffic and neglect. While the stable buildings that had long been dismantled were replaced by modern exposed brick structures and connected with the animal clinic building under a gracefully built flying roof, the former Institute of Anatomy was replaced by a new construction placed diagonally towards Engehaldestrasse that demarcates the courtyard better and provides better protection against the noise emissions of the nearby streets.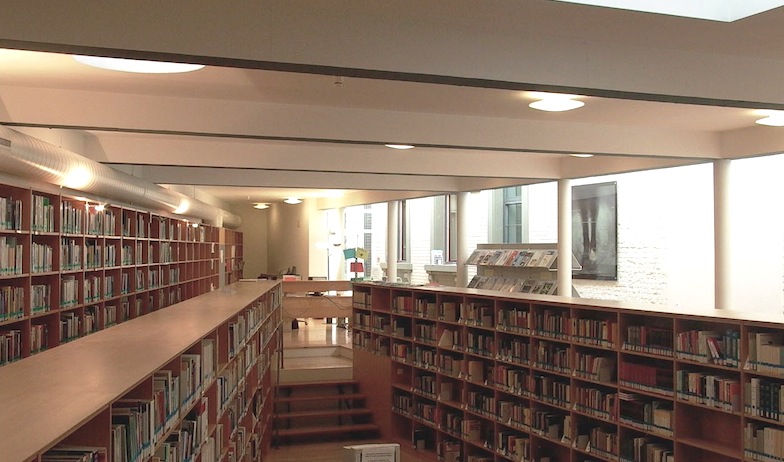 The architectural rule of thumb that difficult conditions often lead to particularly satisfying solutions is proven true by the library annex that was forced into the gap between the former horse shoeing institute and Schützenmattstrasse. Directed lighting was used to develop the relationship of the triangular room to the old building and its surroundings; the zenithal light from the skylights is deployed in a particularly skillful manner to create a sense of peace and atmosphere in the room. The lowering of the central area produced a room of high atmospheric quality.
Literature:
Urs Schatzmann, Bernd Hörning, Jacques Nicolet, Werner Sackmann (eds.), Denkschrift Veterinärmedizinische Fakultät Bern: 1900-2002, Bern (Verlag Hans Huber) 2004
Canton of Bern Department of Construction, Transport and Energy, Construction Department (ed.), Bern, Uni Engehalde, Um- und Neubauten 1992-1996, Bern 1996