Student lodgings
The University of Bern does not offer accommodation for students. However, there are various independent student lodging companies in Bern that rent out rooms and studios to students. The University of Bern cannot guarantee you an accommodation in these student lodgings, please contact the student lodging company directly.
* Important note regarding studentlodge.ch
Please note that there are two types of contracts:
Contract A: Cheaper, but cannot be terminated before the mentioned end date (31 January / 31 July)
Contract B: Slightly more expensive, but may be terminated at the end of each month unless a departure date is selected when booking the accommodation. Please note: selecting a departure date in the search function on the studentlodge website will automatically define this date as end date of the contract. The contract cannot be cancelled before this date. To keep full flexibility, we suggest searching without selecting a departure date.
If you are not sure, when you will be leaving Switzerland, we strongly suggest a B contract without departure date.
website
contact
Student Accommodation offered by the Student Union of the University of Bern (SUB)

The Student Union of the University of Bern (SUB) operates a housing platform.

www.sub.unibe.ch
wost@sub.unibe.ch
Tel. +41 (0)31 631 54 11
Housing Anywhere

The student housing platform Housing Anywhere finds rooms and apartments for students from students.

www.housinganywhere.com
Accommodation Offers for Researchers

The Welcome Center of the University of Bern publishes accommodation offers for lecturers and researchers in Bern and surrounding areas.

Welcome Center


Shared flats

Various independent platforms list available rooms in shared flats all over Bern.

www.wgzimmer.ch
Information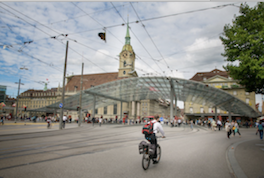 Registration in your place of residence (residents' registration office)