Clinic for Dental Medicine
Freiburgstrasse 7
The paradigms of modernism underwent fundamental change under the impression of the Second World War. While architect Otto Brechbühl invoked his late patron Otto Rudolf Salvisberg for the facade of the School of Dental Medicine, it is not primarily the absence of the great master that can be identified behind the new construction of the 1950s but a completely new approach to architecture.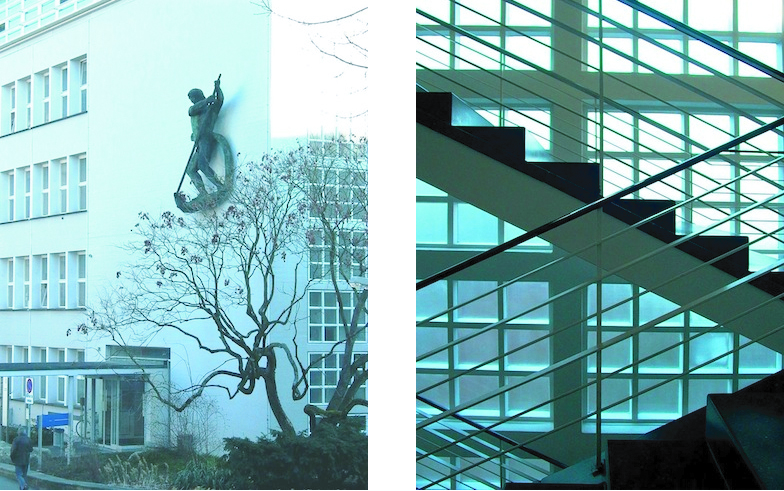 By only displaying its qualities with the utmost restraint and tending to foster inconspicuous virtues such as a neat construction method, this building, erected in 1953-54 and heightened, extended and converted by Kiener Architekten in 1996, fits in perfectly with the architecture of its time. Art in architecture is the means by which what is in essence an anonymous structure is provided with identity and monumentality. A monumental bronze sculpture by Gustave Piguet markes the main entrance. It represents Ainas, the Egyptian deity of healing, fighting with a snake.
The connecting areas are of special, albeit sparse elegance. Behind a semi-transparent glass brick facade, the main entrance is followed by a staircase in which the black terrazzo steps blend in an astonishing manner with a steel handrail conveying a graphic and tender air.

Brechbühl comes up with an almost baroque-like theatrical climax for the side entrance of all places: a baroque curved flight of steps to the foyer. Here not only Viktor Surbek completed his extensive mural painting Southern Landscape in 1957; above all the spirally winding stairs, their steps and strings made entirely of a very dark terrazzo and brass inlays, consume all our attention – they look more like a superior work of sculpture than a means of climbing to the upper floors.
Together with Jakob Itten, Otto Brechbühl later constructed buildings such as the nearby high-rise ward building of the University Hospital. More recent university buildings such as the Institute of Pathology also originate from the traditional architectural practice that with Otto Rudolf Salvisberg counts among its founders a figure of international prominence.
Literature:
Berhard Furrer, Aufbruch in die Fünfziger Jahre. Die Architektur der Kriegs- und Nachkriegszeit im Kanton Bern 1939-1960, Bern (Stämpfli) 1995