More information
Access the dining halls website here. (This page is only available in German.)
ZFV is a longstanding Swiss company specializing in the hotel industry, restaurants and bakery products and pastries. Our activities are highly diverse and we manage both city and holiday hotels as well as gourmet restaurants, contemporary restaurants and excursion restaurants. Companies, schools and other institutions appreciate us as a competent catering partner with the potential for innovation, as do stadiums, trade fairs, airports and event organizers.
University House: Meeting location
The University House is the center for university meetings and a place where people from all faculties and disciplines can meet to talk to each other. We provide an exchange platform between teaching staff and the public, research and management. (This page is only available in German.)
The Lesbar Café Lounge at the Münstergasse Library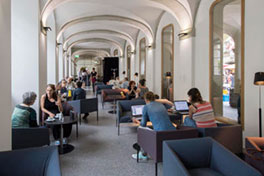 Food and drink are served in the historic building which houses the Münstergasse library. The Café also has around 30 outdoor seats in the garden.