Equality at the University of Bern
The university is committed to gender equality for men and women. It promotes the success of both men and women in academia with effective instruments of gender equality and career models. The University of Bern thus has a Gender Equality Commission as well as an Office for Gender Equality and pursues, in particular, the following goals:
the appropriate representation of both genders at all levels
the active promotion of the genuine equality of men and women by everyone
the possible reconcilability of studies, job and care obligations for both men and women
a permanent position for Gender Studies within the university
Newsletter Equality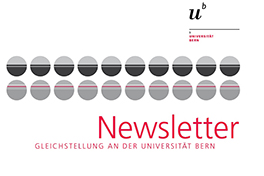 Newsletter Equality
With our newsletter we inform you once or twice per semester about news in gender equality, especially at the University of Bern.